Please click on the "Calculator" on the bottom of the official website, or check this link to enter the calculator interface. Https://www.bitdeer.com/en/calculator

For example, to calculate the theoretical earnings for 480 days 50TH/S plan with the Computing Power Fee of $684.71, please enter the "plan duration", "computing power", "Computing Power Fee" and "Electricity Fee". Based on the current difficulty and marketing price, the static income is 2.35*(480-291.37)=443.28USD
Note: As the earnings of cryptocurrency mining depend to a large extent on the price of the cryptocurrency and the difficulty of mining, these are unpredictable. The above calculation can only be an investment reference. Please make independent judgments on the long-term profitability of cryptocurrency mining. BitDeer cannot ensure a precise number of earning.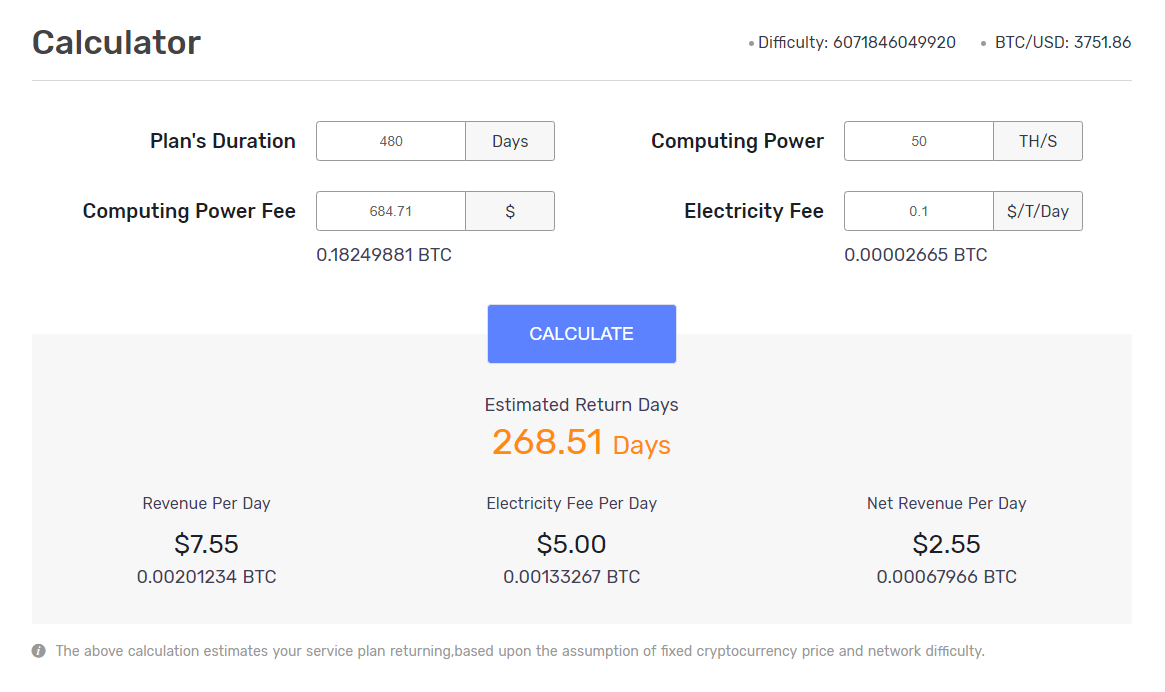 点击官网下方 "计算器" 或直接通过链接进入计算器界面:https://www.bitdeer.com/zh/calculator
以 480天 50TH/S 使用费$684.71 的套餐为例,依下图所示,输入套餐周期,算力数,算力使用费,维护费数据。在当前全网难度和比特币价格基础上,计算得到静态收益为:2.35*(480-291.37)=443.2USD.
注意:全网难度和币价在套餐周期内会有波动,以上计算所得为静态收益值,仅作为投资参考,Bitdeer对最终收益结果不做任何承诺。