Electricity Usage fee: The maintenance fee is to calculate the electricity cost, operation, and maintenance of the mining machine, etc.;
Electricity cost is calculated based on the number of days and can be paid via multiple payments. When purchasing a plan, customers can choose to pay part of the plan (minimum 10 days) and cover the rest before the initial electricity days runs out.
You can adjust the number of mining days when making the order
How to renew the electricity fee
1. Account-My Electricity Fee
2. Dashboard- Hashrate List-Pay for Electricity
Please note to add days before the maintainable days run out, otherwise, the mining and revenue of the plan may get interrupted.
For example: If you placed a 30-day plan (from Jan 1st - Jan 30th), and you paid 10 mining days in advance, then the plan would be mining from Jan 1st- Jan 10th and stop mining on Jan 11st. If you add 15 days on Jan 15th, the plan would start to mine again from Jan 15th-30th, which means there are no earnings on Jan 11th - 14th.
Note: The maintenance fee(/T/Day)for your order would stay the same during the plan duration.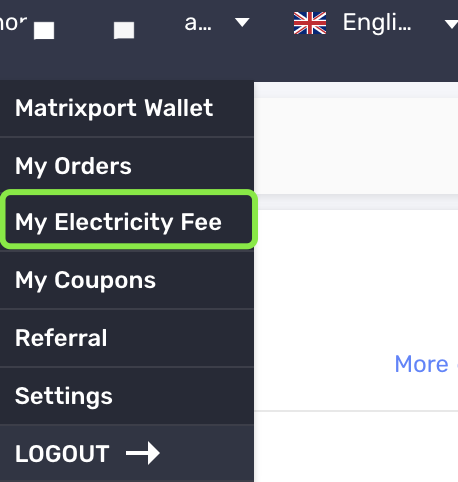 Remaining Days of Electricity indicate how long the fee you have paid can support mining, if the Days of Electricity runs out, you need to add days for the plan to keep mining~