When the miners you purchased are ready at the hosting mining farm and connected to the pool, they will start mining right away. Under normal circumstances, the data of the mining output will be released on the next day (UTC). The distribution rules for the mining output are listed below:
I. Settlement Circle Agreement
The payment will be settled about once every 10 days. Here are the details:

Note:
1. The end of the third circle of each month is the last day of the month. The last day for February can be the 28th or 29th and the last day for the other months can be the 30th or the 31st. For that reason, the first two circles of each month will be 10 days, but the third circle can be 8, 9, 10, or 11 days.
2. Unless otherwise specified, the time zone used in the rules is UTC.
II. Payment Time of the Revenue
Based on the agreement mentioned above, the revenue will be paid based on the circles. In another word, the digital currency Revenue corresponding to the circles will be paid on the 3rd/13th/23rd of each month.
III. Payer of the Revenue
The revenue will be paid directly by Bitdeer's partner pools.
IV. Service Fee, Hosting Fee and Repair Fee
1. In Bitdeer's cloud hosting service, mining costs like service fee, hosting fee (including labor, etc.) and repair fee will be deducted from the mining revenue and paid to the mining farms by the pools.
2. The mining farm costs are usually paid in legal currencies (usually in US dollars) and the revenue will be paid in digital currency, so the payment of the mining farm cost is subject to the exchange rate.
3. In this rule, when calculating the exchange rate, the data at the same time point is used and then the weighted average is carried out. The time points used are as follows:

V. Revenue Payment Order
1.. When a certain circle ends, the mining farm costs will be paid first, and then the group members' mining revenue will be paid. It is the basic order of the mine's revenue sharing. Please check the figure below for details: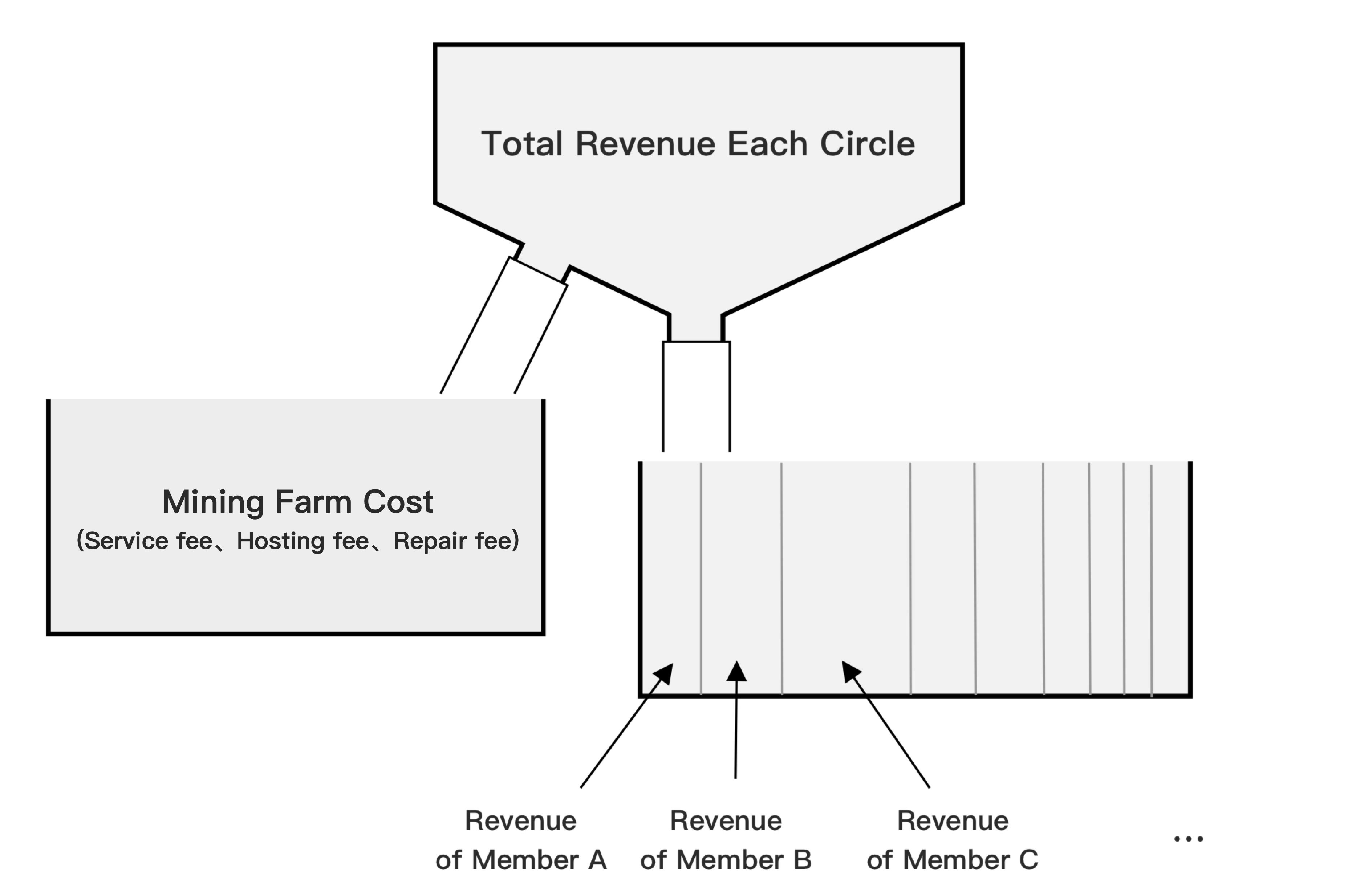 2. The group members will not be able to receive the corresponding digital currency on time under the following circumstances:
a) When the revenue is lower than the mining farm cost, it will be temporarily kept in the "Undistributed Balance" and be settled in the next circle.
b) As stated in the payment rule of BTC.com, when some of the members' receivable revenue does not meet the minimum payment threshold (for BTC.com minimum threshold: 0.005 BTC) of the pool at the end of a certain circle, those members will not receive the revenue. In another word, the revenue that does not meet the minimum payment threshold will be left in the member's account balance and be settled in the next circle.