You could change the receiving address for active plans.
Please login to the BitDeer account, click the Hashrate - Manage - Hashrate Managemant - Switch Pool.
Note: Switching pool function is not available for accelerator mode plans for now.
Next, select the target pool and hit "CONFIRM"
It takes a few hours to switch to a new pool. Computing power might fluctuate during the process. In order to maintain a steady revenue, frequent pool switching is not recommended.
After switching pools, the revenue from the former pool will be sent to the current wallet account in 5-20 days after the plan expires.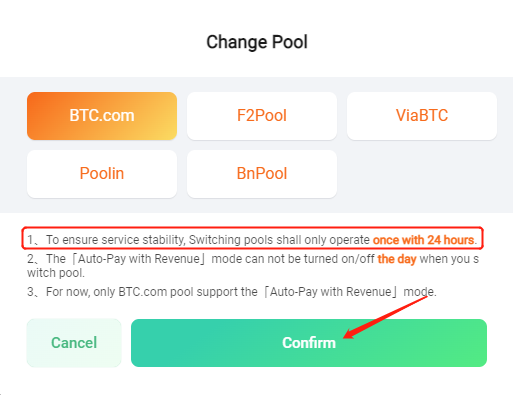 I the mining pool modification rules
1, the scope of modification
After your computing power begins to take effect, you can modify the mining pool. The scope of the modification is limited to the mining pool that has entered into cooperation with Bitdeer and is open for data. It is temporarily not supported to be modified into a custom pool.
2, the modification time
After you submit your application for modification, it will automatically take effect within 3 minutes.
3, the restrictions of the modification
Since the modification of the mining pool involves the scheduling of the underlying data interface, and there is a certain amount of computational loss each time the pool is modified, the Bitdeer platform can only be modified once a day.
4. impact of modifying mine pool
After the modification of the mining pool is successful, the next mining revenue will be paid by the new mining pool, and the proceeds of the unspent money before the modification of the mining pool will still be paid by the old mining pool.
For a given computing power plan, the mine pool modification and address modification cannot be performed at the same time. When the mine pool modification is in progress, the address modification cannot be performed.